Be on the look out for FUBU's new platinum line of clothing.But your tired of rocking FUBU check out MeccaDNM, Enynce and the Ecko line of clothing are very very hot right now. Leather Avirex jackets are in fashion but very costly, so that might just be a christmas wish.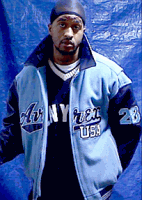 Here's one of Avirex's jackets, very slick and cool, but too expense this one is about $500.
Mystikal has gone out on his own,departing from southern hip-hop dynasty No Limit partly because they decided not to use beats by the pound(or The Medicine Men which is their new name.)and opting for them to start fresh with new producers. Mystikal along with Nelly are the hottest rappers out right now. Although Mystikal's new album has a marsh mellow lukewarm feel to it,expect it to sell major units. The picture is from his No Limit debut album. Mike Tyler thanks for the memories and good luck.